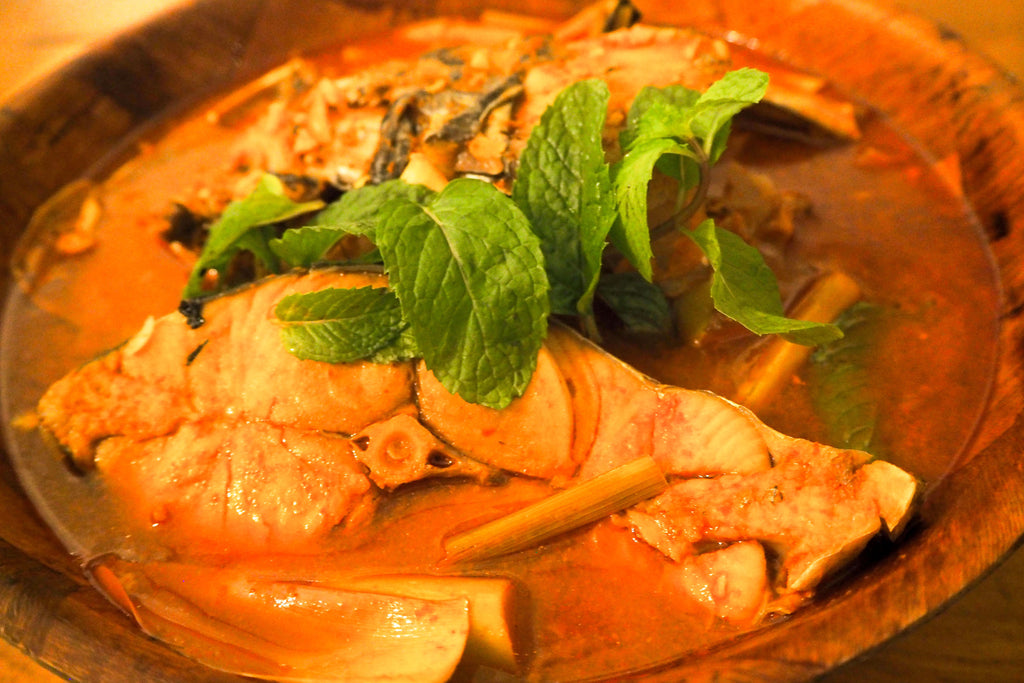 In Asia, we are blessed with lots of fragrant herbs to make Assam curry, which also goes very well with snapper. In this recipe, we highly recommend using red snapper, golden snapper or batang. It can also be done with various types of fish heads.
Prep time: 10 mins
Cooking time: 25 mins
Servings: 2-4, depending on the number of other dishes
Ingredients:
1 fish head or 2-3 fish steaks
2 stalks of lemon grass
2 stalks of ginger flower, with stalks sliced
3 shallots, finely sliced
2 garlic cloves, finely sliced
1 tablespoon of balachan (shrimp paste)
fish curry mix (you can get this from the supermarket or at the wet market)
4 lady's fingers
1 tomato (cut into wedges)
3 sprigs of mint leaves
oil
Directions:
1. Pound the balachan with a mortar and pestle. Fry the balachan until fragrant.
2. In a pot, add the fish curry mix and shallots. Fry gently over low heat.
3. Add the balachan, lemongrass, garlic, tomatoes and lady's fingers.
4. Add 2 cups of water.
5. Leave to boil.
6. Put the fish slices or fish heads into the boiling mixture.
7. Add the ginger flower.
8. Add 3 tablespoons of sugar (you may vary the quantity according to the level of sweetness preferred).
9. Leave to simmer for 10 minutes or until fish is cooked.
10. Serve hot with rice.