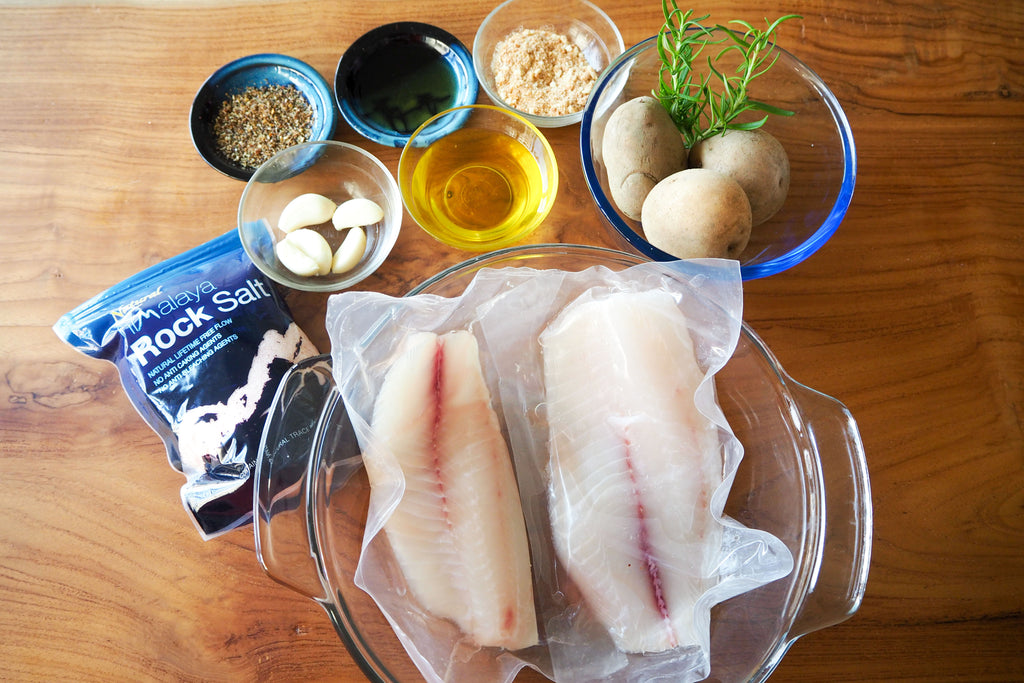 We recently went to one of the plant nurseries along Thomson Road and got ourselves a pot of rosemary. Excited that we now have such a fresh ingredient in our home, we put the plant to work on its first day home with this very simple but very delicious recipe. I would describe the dish to be like eating a garlic bread sandwich, except that the filling is way thicker than the bread! Isn't that the best kind of sandwich you can ask for? No ketchup needed for the potatoes too as they come out of the oven super juicy and full of flavour!
Prep time: 5 minutes
Cooking time: 40 minutes
Servings: 2
Ingredients:
Olive oil
3 medium potatoes, peeled, washed, and cut into wedges
4 fresh rosemary sprigs
5 whole garlic cloves, peeled
Fish sauce
Fine sea salt
Black pepper
2 fillets -- most firm-fleshed fish such as grouper, sea bass, red snapper will do (We chose to use tilapia which went very well with the garlic and rosemary.)
2 tablespoons of unflavored bread crumbs
Directions:
1. Pre-heat the oven, and set the temperature to 200 degrees celcius.
2. Cut the potatoes into wedges and place the potato wedges in the baking dish, pour 2 tablespoons of the olive oil over them, add 2 sprigs of rosemary, all the garlic cloves, and salt, and pepper. Toss thoroughly. Put the dish in the preheated oven.

3. In the meantime, prepare the fish. First, wash the fish fillets and pat them dry with paper towels. Spread some fish sauce on the fish. Strip the leaves from the remaining rosemary sprigs, scatter them over the fish, add salt and pepper, and sprinkle the bread crumbs and another 2 tablespoons olive oil over the fillets. Leave the fish filets in the refrigerator.
4. After 15 minutes, remove the dish to turn the potatoes over, then put it back in the oven. Cook until the potatoes feel tender when tested with a fork. This should take roughly another 10 minutes.
5. Remove the dish from the oven. Push the potatoes to the sides, making room in the center for the fish fillet to lie flat.
6. Return the dish to the oven and bake for about 14 minutes or until the crumbs on the fish look golden brown.