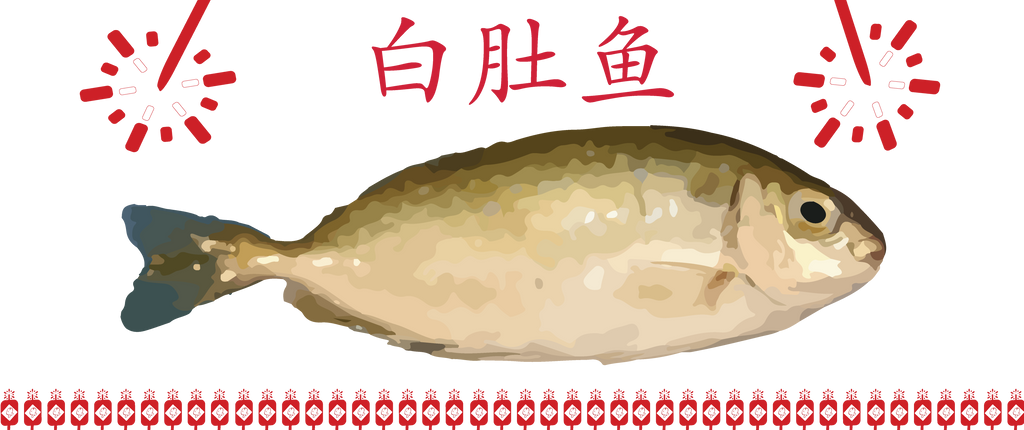 Fish is very commonly eaten during the Chinese New Year because fish in Chinese (鱼) sounds the same as excess in Chinese (余). What many people do not know is that there is a certain delicacy that can be found in our local wet markets. This special delicacy is the rabbit fish. Most of you would know rabbit fish as a common, affordable fish... except during the Lunar New Year season. For a few days in a year - and only for a few days - the rabbit fish sold in local markets are full of creamy roe or milt (fish semen). This is the period when they get ready to spawn and when the fishes lose the bitter taste in their stomach. Rabbit fish is commonly found in local waters but the best quality rabbit fish is believed to be from the Kasu region in Indonesia. At Dish The Fish, we believe in only taking seafood from the best places and this is the only place that we get our Chinese New Year Rabbit Fish from!
It is believed that eating the rabbit fish when its stomach is full of roe or milt is a sign of prosperity. In particular, the Teochews in Singapore believe that eating rabbit fish (pek tor he in Teochew dialect) will ensure good luck for the coming year.
During years when the quality of roe and milt is exceptionally good, a kilogram of rabbit fish can be found to be selling at as high as $120! The milt is generally preferred over the roe and is sold at a premium to the roe. To tell the two apart, the milt is paler and whiter than the roe which is yellowish in colour.
The best way to eat this delicacy during Lunar New Year is to steam it for about 6-8minutes. You will know that it is cooked when the fish eyes turn white. Eat it with a mixture of lime, soy sauce, chilli and garlic (optional). Remember, don't overcook it so that the roe is not hard but creamy.
Most importantly, you have to eat this fish with the joy of looking forward to a fresh new start to the new year, where all things are possible. :)
From all of us at Dishthefish, we wish you a Happy Chinese New Year! Get your rabbit fish at our shops or online here.