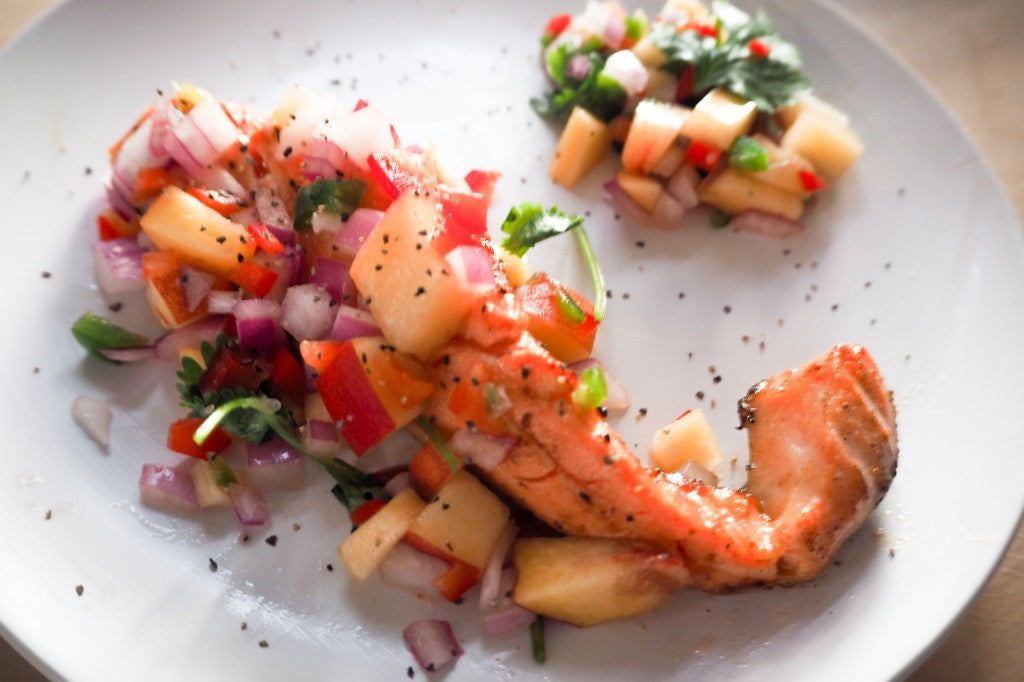 We made a very simple, very delicious salmon dish with these simple ingredients. The tanginess of the salsa brings out the sweetness of the salmon perfectly.
Prep time: 15 minutes
Cooking time: 10 minutes
Ingredients:
300g peach, cut into 1/4-inch pieces (mango works too)
2 tablespoons finely chopped red onion
2 tablespoons chopped fresh cilantro
2 tablespoons fresh lime juice
1 tablespoon honey
2 tablespoons finely chopped red bell pepper
1 small jalapeño chile, seeded, finely chopped
1/8 teaspoon salt
2 x 250g salmon fillets, skin removed 2 tablespoons olive oil
Freshly ground black pepper
Directions:
1. In medium bowl, mix Salsa ingredients. Cover; set aside.
2. Place salmon in ungreased glass baking dish. Mix lime juice and oil; pour over salmon. Cover; refrigerate 15 minutes.
3. Remove salmon from marinade, reserving marinade.
4. Place salmon on pan over medium heat. Cook 5 minutes. Turn salmon; brush with reserved marinade, and sprinkle with salt and pepper.
5. Cook 3 to 5 minutes longer or until salmon flakes easily with fork.
6. Serve salmon topped with salsa.