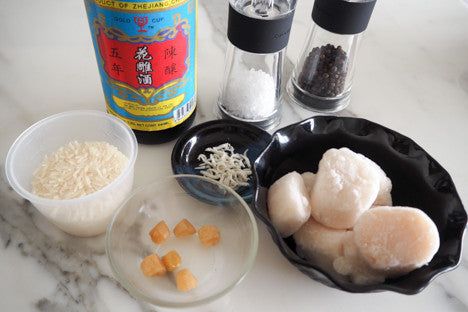 This is a very nourishing dish to have when you are feeling under the weather or if you are just looking for some comfort food. We used dried silver anchovies and dried scallops to boost the umami taste of the dish without having to use any form of soup stock. If you are wondering why dried silver anchovies are so popular in grandma's soup, it's because according to Traditional Chinese Medicine beliefs, silver anchovy helps to treat weakness in the spleen, stomach and lungs. It is also widely used to alleviate cough.
Cooking time: 1 - 2 hours, depending on how you like your porridge done
Servings: 2
Ingredients: ½ cup white rice 8 big scallops 6 dried scallops 1 tablespoon dried silver anchovy ½ teaspoon white peppercorns 1 cup Hua Diao Wine (rice wine)
Directions:
1. Rinse the rice and pour water in in the ratio of 6:1 (i.e. 6 cups of water to 1 cup of rice).
2. Add the dried scallops, dried silver anchovy and white peppercorns into the rice mixture.
3. You may choose to use either a rice cooker or a pot to cook the porridge. If you are using a pot, bring the water to a boil before reducing to a gentle simmer.
4. When the porridge is reaching the consistency that you desire, marinate the fresh scallops briefly in Hua Diao wine before adding the scallops to the mixture.
5. Stir gently until the scallops are just cooked -- this should take about 5 minutes.
6. Season with pepper and soya sauce according to your taste preference.