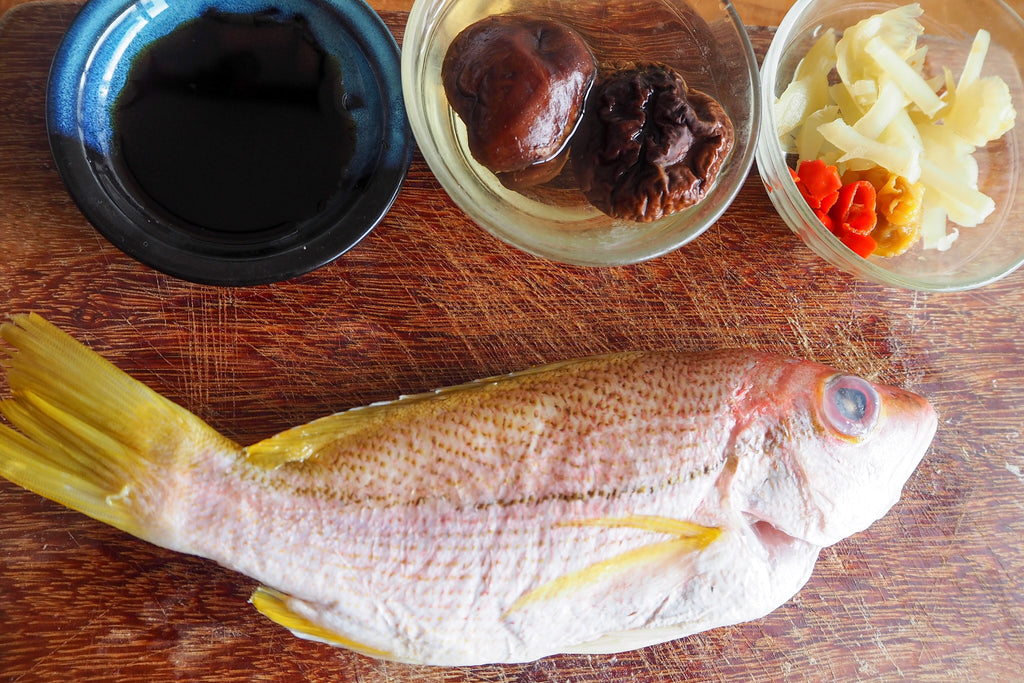 The Teochews love fish, and they love to cook fish in a way that enhances the fish's natural sweetness. There are many versions of Teochew steamed fish recipes, but what is common in all of them is preserved sour plum and salted vegetables. Here's our version below:
Cooking time: 10 - 15 minutes
Ingredients:
1 tablespoon soy sauce
1 or 2 preserved sour plums
100g salted vegetables (rinse to lower the saltiness)
Half tablespoon sugar
2 dried mushrooms (soaked for about 15 minutes)
1 chilli, sliced
300g-600g of fish (we recommend using whole Chinese pomfret, snapper, red grouper or seabass)
4 tablespoons of water
1 tablespoon shaoxing wine (to add at the end)
Method:
1. Slice the preserved vegetable and chilli
2. Stuff the chilli into the fish cavity
3. On the plate where you will be steaming the fish with, lay the fish in the middle and distribute the sliced salted vegetables on top of the fish. 
4. For the sauce, mix the soy sauce, sugar and water and pour over the fish. 
5. Heat up the wok with sufficient water in it for steaming. 
6. When the water in the steamer is boiling, carefully lay the plate of fish in the wok. 
7. Steam for about 10-15 minutes, depending on the thickness and size of the fish.
8. At the last minute, open the cover and drizzle the shaoxing wine over the fish. Carefully take the plate of fish out of the steamer and serve hot.