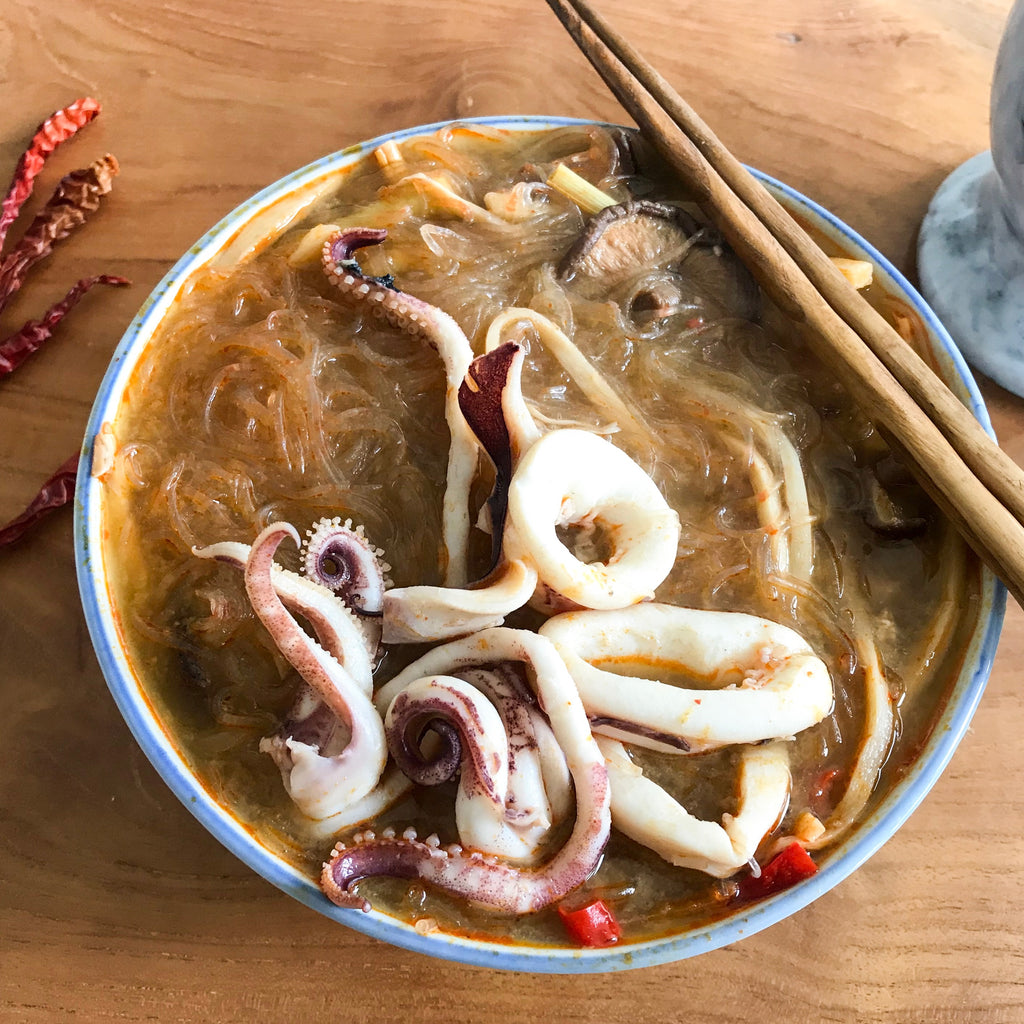 Noodles soup dishes are easy to make an easy to scale according to the number of people eating. This dish is light and refreshing, and you can choose to remove the noodles if you wish to just have the soup with other dishes (according to the Thai way of eating Tom Yum).
Cooking time: 15 minutes
Servings: 1-2
Ingredients:
1 squid
1 serving of tang hoon, soaked
a handful of mushrooms, soak first if using dried mushrooms
2 stalks of lemongrass, throw away the outermost layer and slice the stalks into 1 inch strips
3 cm of ginger/ galangal
3 kaffir lime leaves
3 chilli padi, sliced
3 cloves of garlic, peeled 
1 onion, sliced
4 tablespoons of fish sauce (adjust according to saltiness preference)
juice from 4 limes (adjust according to sourness preference)
sugar (adjust according to sweetness preference)
1 tablespoon of nam prik pao (Thai chilli paste that you can find in Thai supermarkets, we used the Maepranom brand, which is very popular in Thailand)
300ml of water
Method:
1. Clean the squid by plucking out the head and removing the hard quill inside the squid tube. Slice the squid tube into rings, and cut off the squid eyes. 
2. Pour the water into a pot and let it boil.
3. Once the water is boiling, throw the lemongrass, galangal, kaffir lime leaves, garlic and chilies into the water. Let it boil for 10 minutes.
4. Add the squid, mushroom and tang hoon and cook for another 3 minutes. Ensure that the water is boiling when you add in the squid to keep the squid springy.
5. Lower the heat and add in the fish sauce, lime juice and nam prik pao.  Taste and adjust accordingly. 
6. Enjoy!