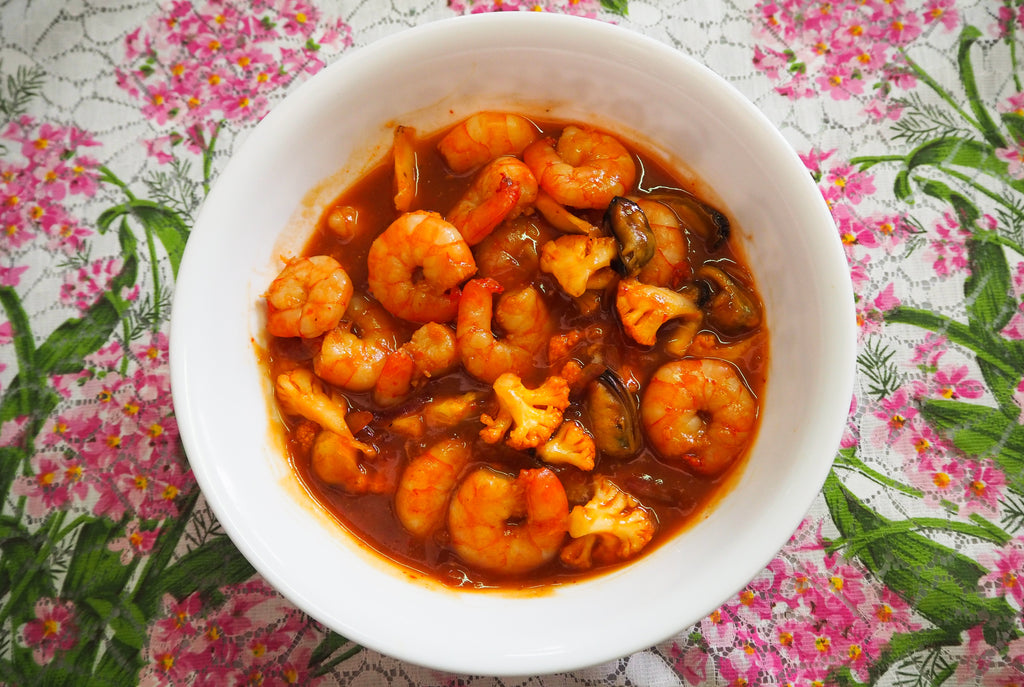 Comfort food is food which often provides a nostalgic or sentimental feeling to the person eating it. That feeling of nostalgia may come from eating food prepared by someone dear to you, or a certain memory that the food evokes. To me, comfort food varies a lot according to where I am and the weather that is around me. Lots of seafood dishes fall into my comfort food zone because of the familiar sweet smell that accompanies seafood when they are being cooked. Ingredients for making comfort food are usually easy, every day ingredients that don't require much work putting together.
Last Sunday, a very rainy Sunday, I decided to put two aspects of what comfort food is to me together to form a very comforting dish. The first, a sweet and sour base according to my mum's recipe. Second, a mixture of mussels, prawns and cauliflower.
There is really nothing wrong in indulging yourself with comfort food when you need it. What matters is the health content of the comfort food that we turn to.
Common minerals found in mussels and prawns include selenium, iron, B vitamins, zinc and omega-3. The lesser known mineral, selenium, is one of the most effective antioxidants at maintaining healthy cells. Zinc, another mineral, is very important for the development of a healthy immune system.
A thought that came to me while pondering on my list of comfort foods is, if nostalgia is what is driving me to crave for those foods, does that not mean that what I ate while growing up played a huge part in my food choices? Surely,the daily affair of drinking soups and stews while I was young is a huge driving factor for me turning to these by default now.
So parents, what types of food do you want your kids to turn to by default?