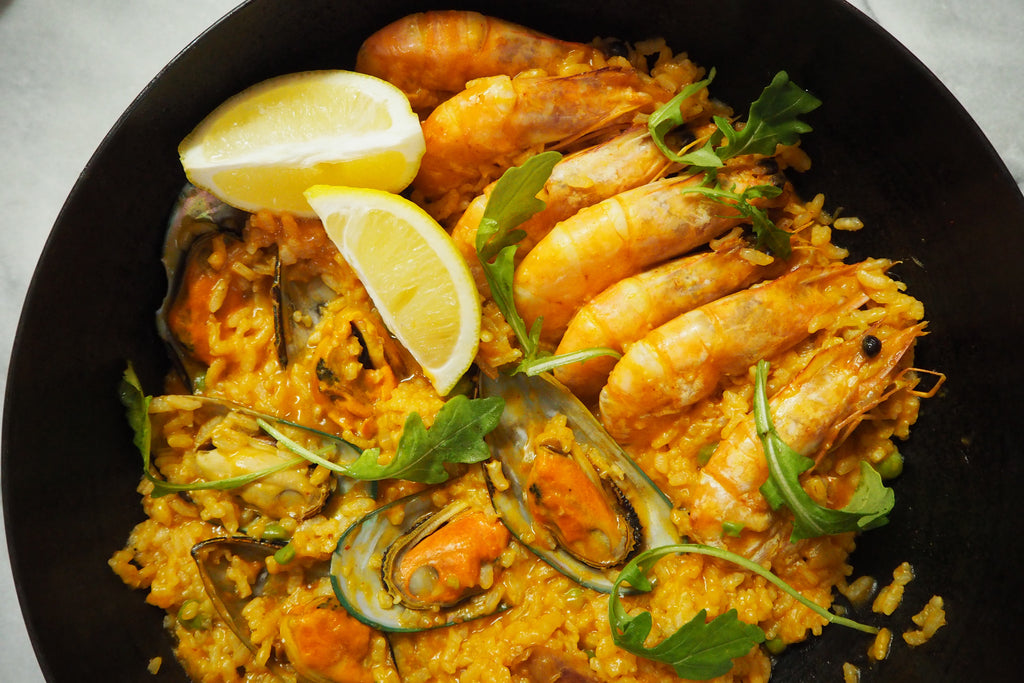 Paella is an internationally-known rice dish from Spain. In the past, we were afraid of attempting to cook this dish as it looked very intimidating in its paella pan with its exotic ingredients. However, with a bit of research and tweaking of ingredients, we managed to create a Seafood Paella dish that turned out really yummy! We were also surprised by how easy it was to prepare this dish!
Prep time: 10 minutes Cooking time: Approximately 40 minutes
Ingredients: Olive oil 100g Lap Cheong (chinese sausage), sliced 1 onion, finely chopped 4 cloves garlic, finely chopped 2 litres chicken stock 1 heaped teaspoon smoked paprika 2 cups of paella rice (Spanish rice is rounded and short; it absorbs liquid very well, and it stays relatively firm during cooking. Bomba and arborio varieties are suitable) 2 handfuls fresh or frozen peas 10 king prawns 500 g mussels 1 lemon
Directions: 1. Heat olive oil in pan. 2. Add the sliced lap cheong and fry until browned and crispy. 3. Add the onion and garlic, cooking until soft.
4. Add the smoked paprika and rice into 3/4 portion of the chicken stock and leave to cook on a medium heat, stirring from time to time. Set the remaining portion of chicken stock aside.
5. After 20 minutes or after the rice is approximately 80% cooked, pour in the rest of the stock along with the peas, prawns, and the mussels.
6. Place a lid on the pan and cook for 10 minutes more.
7. Serve with wedges of lemon.
¡Buen provecho!